Kitchen mixer MORA MMIX K6
Mora MMIX combines elegance and ergonomic design with energy-efficiency. Soft geometric curves and a timeless style characterise the entire Mora MMIX range. The mixers were developed according to our unique EcoSafe™ concept focusing on low energy consumption and long-term environmental care.

Description

Chrome

Article number

732021
PROPERTIES
ESS (energy saving system)
Ceramic cartridge with soft closing function
Adjustable flow control and temperature limiter
Eco (energy and water saving aerator)
Soft PEX® hoses with 3/8" connecting nut (stainless steel braided)
Swivel spout, limitation part for 60°, 85°, 110° or 360° included
With dishwasher valve, switchable between cold and hot water. Pre-set on cold water
Lead Free material
Hole diameter Ø32-37 mm
Backflow protection unit type

DOCUMENTS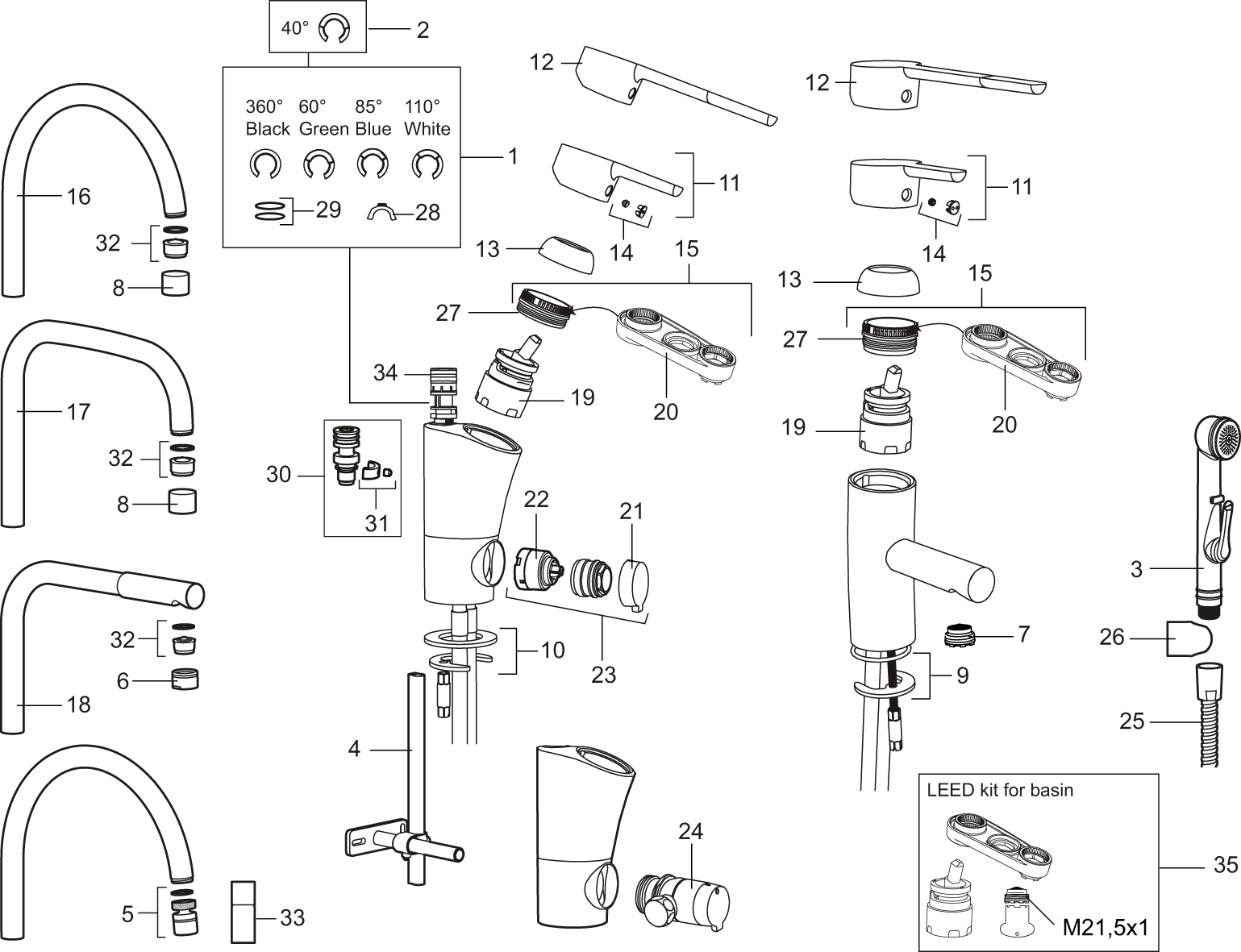 Enter your e-mail address, then the parts list will be sent to your inbox.
| No. | Art no. | RSK | Description |
| --- | --- | --- | --- |
| | 209560.AC | 8345784 | Rubber gasket for Soft-PEX® pipe 3/8, 10-pcs |
| 1 | 209524.AE | 8346915 | Limitation segment |
| 2 | 209543.AE | 8346916 | Limitation segment 40° |
| 3 | 309276.AE | 8184328 | Self-closing hand shower, chrome |
| 4 | 409340.AE | 8531598 | Stabilization kit |
| 5 | 409380.AE | 8281496 | Aerator M22 int., ball joint, 7–9 l/min at 300 kPa |
| 6 | 131415.AE | 8281512 | Housing M24 utv., 15 mm, chrome |
| 7 | 409382.AE | 8242282 | Aerator M21,5 ext., 7–9 l/min at 300 kPa |
| 7 | 409385.AE | 8242292 | Aerator M21,5 ext., 5 l/min at 200–600 kPa |
| 8 | 131410.AE | 8281509 | Housing M22 int. |
| 9 | 409387.AE | 8346912 | Fastening details, basin |
| 10 | 409388.AE | 8346914 | Fastening details, kitchen |
| 11 | 409389.AE | 8344867 | Lever, complete |
| 12 | 409390.AE | 8344874 | Care lever, complete, chrome |
| 13 | 409391.AE | 8344865 | Cover nut |
| 14 | 409392.AE | 8344866 | Colour marking and mounting screw for lever |
| 15 | 409393.AE | 8345179 | Lock nut for cartridge, incl service tool |
| 16 | 409395.AE | 8326732 | Spout K5, complete |
| 17 | 409396.AE | 8326733 | Spout K7, complete |
| 18 | 409397.AE | 8326734 | Spout K6, complete |
| 19 | 409403.AE | 8345132 | Ceramic cartridge, incl service tool |
| 19 | 409405.AE | 8345205 | Ceramic cartridge, Turbo, incl service tool |
| 20 | 891096.AE | 8345921 | Service tool |
| 21 | 409400.AE | 8345180 | Handle for dish washer connection |
| 22 | 209504.AE | 8346905 | Ceramic cartridge for dish washer connection CW/HW, incl. service tool |
| 23 | 409104.AE | 8322314 | Dishwasher isolator cartridge, incl. service tool |
| 24 | 409399.AE | 8347223 | Rebuild.kit for dish washer |
| 25 | 309209.AE | 8181508 | Shower hose, 1500 mm |
| 26 | 130732.AE | 8184186 | Wall bracket |
| 27 | 439060.AE | 8295361 | Lock nut |
| 28 | 309519.AE | 8295318 | Fixed plug, 2 pcs (black/grey) |
| 29 | 708843.AE | 8295357 | O-ring (15,54 x 2,62), 2 pcs |
| 30 | 109016.AE | 8295331 | Spout nipple, complete, for fixed spout |
| 31 | 139595.AE | 8295313 | Stop screw with limitation segment |
| 32 | 131394.AE | 8242225 | Aerator insert, 7–9 l/min at 300 kPa |
| 32 | 131400.AE | 8281495 | Aerator insert, 11–15 l/min at 300 kPa |
| 32 | 132408.AE | 8281439 | Aerator insert, 8 l/min at 200–600 kPa |
| 33 | 409343.AE | 8281537 | Aerator M22 int., ball joint, 7–9 l/min at 300 kPa |